aConCorde
Description
aConcorde is a multi-lingual concordance tool. Originally developed for native Arabic concordance, it posses basic concordance functionality, as well as English and Arabic interfaces. Written in Java, so will run on any platform that has the Java Runtime Environment installed.
Features
Full Arabic support (no need to transliterate to ASCII before concordance).
English and Arabic native interface
Multi-platform - runs on Linux, Mac OSX and Windows (including non-Arabic Windows) - requires Java Runtime environment.
Supports Unicode (UTF-16), UTF8 and ASCII encoding.
Frequency analysis
Concordance can be sorted on left or right contexts
Save concordance output to file (as plain text or HTML aligned tables).
Save frequency list to file (as plain text or HTML tables).
Download
Screenshots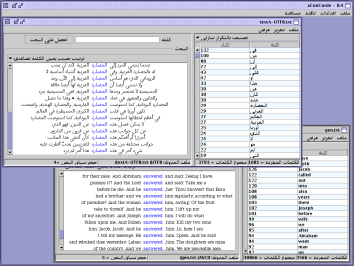 Example of Arabic concordance.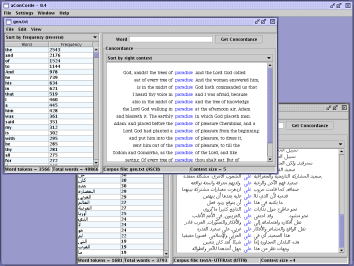 Example of English concordance.